How To Get Rid of Dust Mites 🧽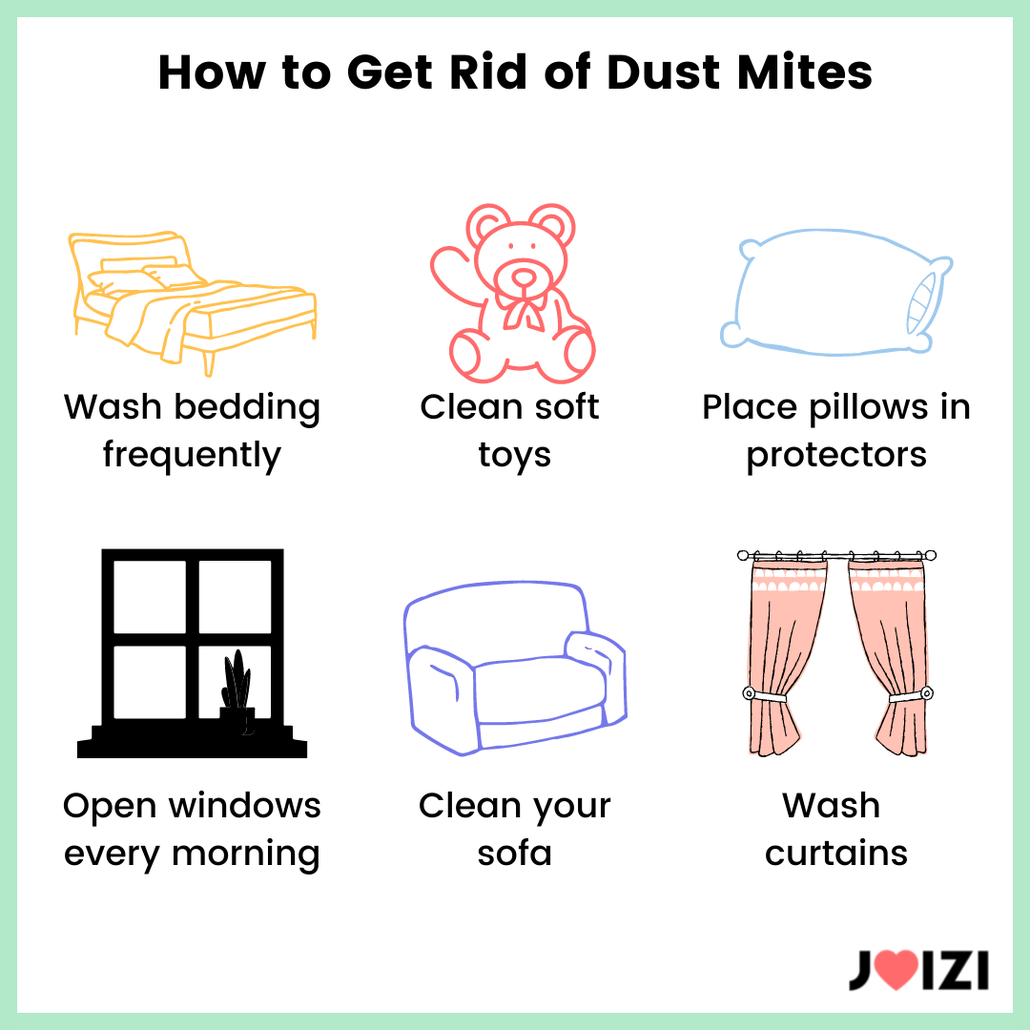 While dust mites don't bite and are invisible to the human eye, their droppings contribute to allergies, asthma and eczema. Dust mites are microscopic insects that feed on dead skin cells and live in the layers of dust found on most surfaces in your home, including your mattress, pillows, and furniture. You probably wonder how to get rid of dust mites if you can't see them? We have your back! Read below...
2. Clean soft toys. 🧸
Some toys can be washed in the washing machine, others hand washed in hot water. If your toys cannot be washed, put them in a plastic bag and place them in the freezer for 24 hours to kill the dust mites.
3. Place pillows in protectors.
Allergy Best Buys offers them at a great price. Once the pillows are covered, dust mites will die off as they won't be able to get to their source of food.
4. Protect your bedsheets with PeapodMats.
These 100% waterproof bed mats stay in place without straps. The TPU used in PeapodMats is a type of physical membrane which creates a barrier against dust mites over the covered surface. PeapodMats prevent dampness and the build-up of debris in your mattresses, such as skin cells and sweat.
How to get rid of dust mites from carpet?
Vacuum the carpet thoroughly: Use a vacuum cleaner with a HEPA filter to remove as much dust and dirt from the carpet as possible. This will help to reduce the number of dust mites in the carpet.
Use a steam cleaner: Steam cleaning can kill dust mites and their eggs. You can rent a steam cleaner from a local hardware store or hire a professional to do the job.
Use a dust mite spray: You can purchase dust mite sprays that contain an acaricide, which is a substance that kills mites. Spray the carpet and allow it to dry before vacuuming again.
Reduce humidity: Dust mites thrive in humid environments, so use a dehumidifier to reduce the humidity levels in your home.
Consider replacing your carpet: If your carpet is old and heavily infested with dust mites, you may want to consider replacing it with a hard flooring surface that is easier to clean and less likely to harbour dust mites.
7. Clean sofa covers frequently. 🛋️
Holland & Barrett have a spray solution that kills dust mites and lasts up to 6 months. If you have allergies, it's best to wash covers 1-2 times a month. Once the covers are off, you can use steam cleaners to clean the rest of the sofa.
8. Wash curtains.
If there are heavy curtains at home that are not washed frequently, it's worth considering swapping them for blinds that are easier to clean.
PeapodMats - chosen for you
CHECK OUT OUR MOST POPULAR CONTENT
Use left/right arrows to navigate the slideshow or swipe left/right if using a mobile device