8 potty training mistakes to avoid 🚽
1. Starting too soon ⏰
If you're wondering if your child is ready for potty training, we recommend reading this article on our blog: When to start potty training.
2. Starting during a stressful time 🥴
Upcoming events like moving home, going away on holiday or starting school within the next few weeks is not a good time... there's already too much stress with preparations, don't add to it!
3. Tricky clothes👖
Avoid buttons, suspenders, tights or any other clothes that your child won't be able to quickly take off. This will result in accidents and frustration. Best use trousers, leggings, shorts with elastic bands or skirts. 
4. Giving in to external pressure 😰
It can be other mums at playgroups, grandparents or others asking why your 3-year-old is not potty trained yet. You know your child best and you'll know when they're ready. 
5. Overreacting to accidents
Accidents will happen and that's ok. It's a normal part of learning but children might get anxious or discouraged if parents overreact to an accident. Try keeping the same tone of voice and engage the child in cleaning up. 
6. Ignoring your child's feelings 💖
Your child might be scared of the potty and it's important to acknowledge it and understand where the anxiety is coming from. (A singing potty with flashing lights may not be a good idea after all!) If your child is scared of the toilet, use a potty. If it's the potty that's making them anxious, start with short sit-downs and gradually make them longer.
7. Constipation
While my son would have a wee in a potty without a problem, he was withholding number 2 for days. One day I put a nappy on him and it solved the problem. Soon enough, he was using the potty for both! 
8. Night-time potty training 😴
Being dry at night comes way later for most kids. If you think your child is ready for night-time potty training or doesn't want to wear pull-ups at night, try PeapodMats. These washable bed mats stay in place with no straps. Yes, they can handle the wriggliest of children 😅 (Tested by parents). 
PeapodMats are also great during potty training in the daytime. You can pop them down on the sofa or carpet. See what Rebecca says about PeapodMats:
"PeapodMat does exactly what it says, it is 100% leakproof and doesn't move at night even with a very fidgety toddler on top!  Definitely worth the purchase and saved my daughter's mattress from accidents, unlike the waterproof sheets I've bought in the past."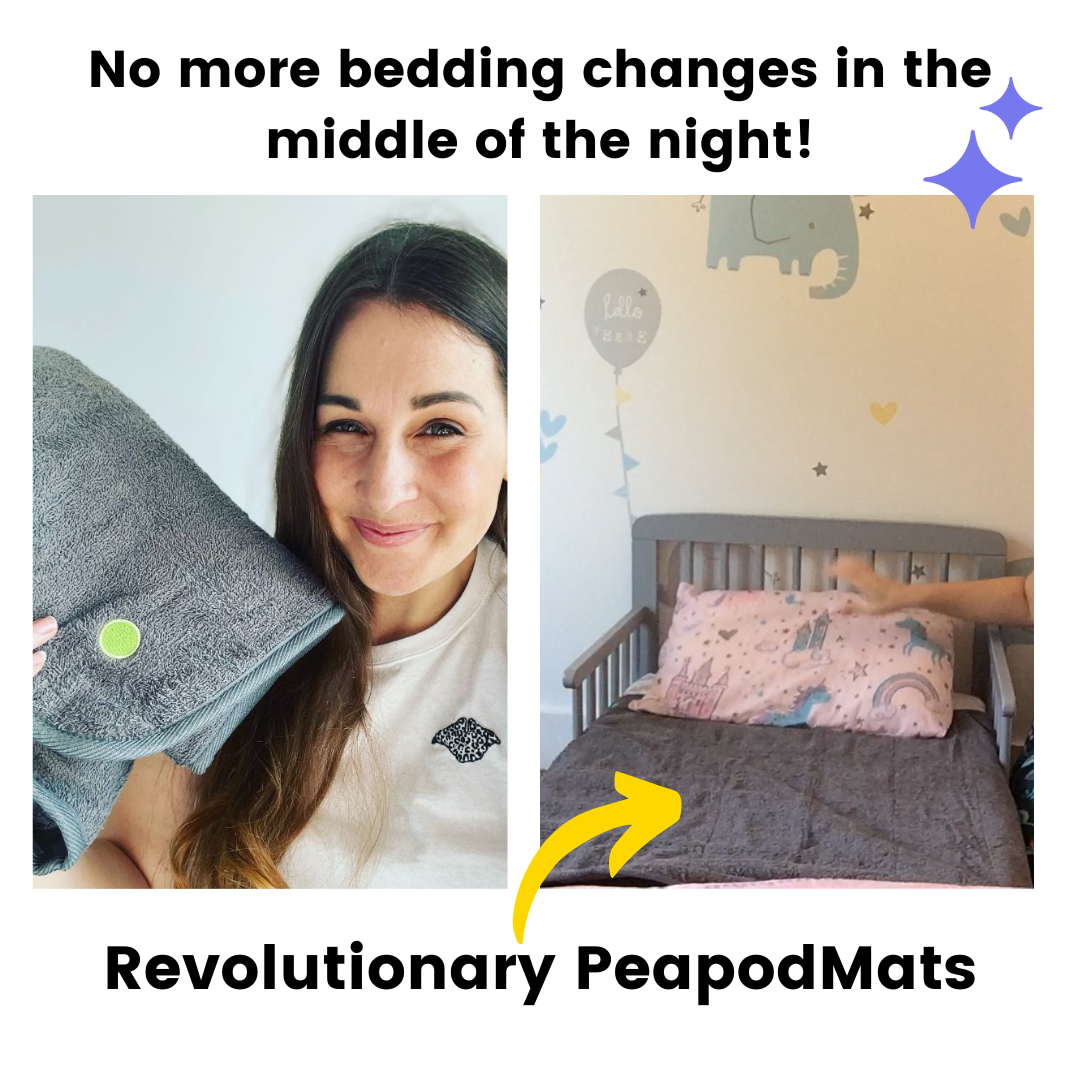 PeapodMats - chosen for you
CHECK OUT OUR MOST POPULAR CONTENT
Use left/right arrows to navigate the slideshow or swipe left/right if using a mobile device