13 must-have items to pack for the beach with kids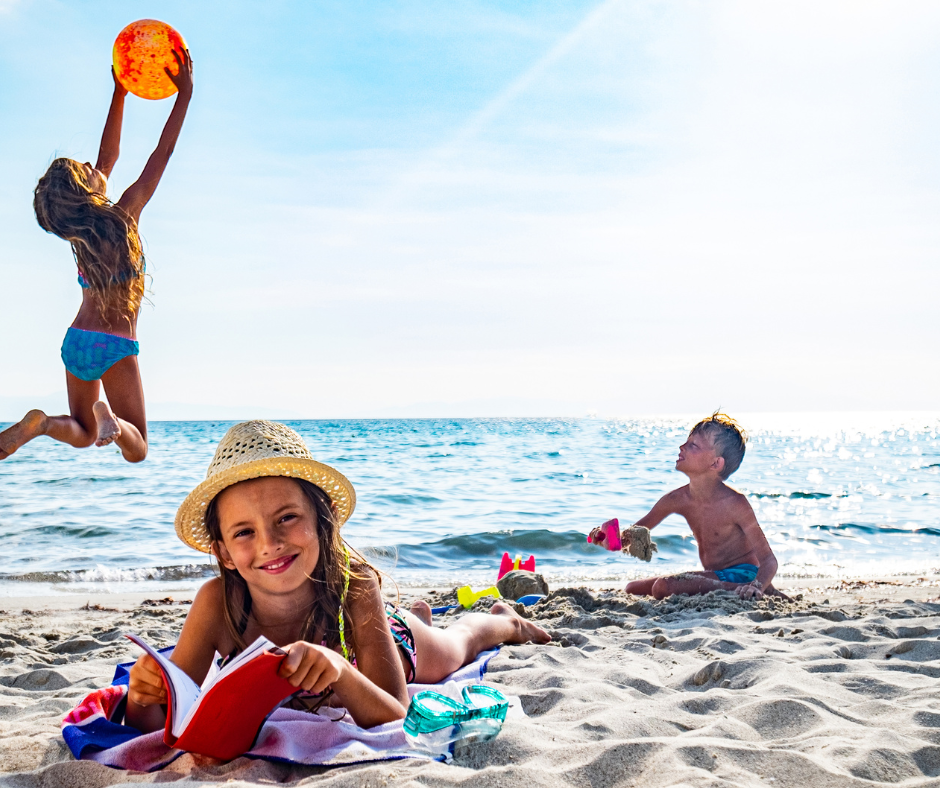 Your Ultimate Beach Day Checklist! 🌴🏖️
Are you ready for an unforgettable beach adventure? We've got you covered with our ultimate beach day checklist! Here are our 13 must-have items to pack for the perfect day by the sea.
Sun Cream and Sunblock ☀️🧴 Take care of your skin by using a high-SPF (minimum 30) sun cream, ensuring adequate protection. Don't overlook the importance of applying sunblock to sensitive areas as well. Throughout the day, remember to re-apply the sun cream frequently to maintain its effectiveness. For added convenience, consider using sun cream reminder stickers that discreetly notify you when it's time for another application. If possible, opt for a waterproof sun cream to enhance its longevity even further.
Beach Towels and Blankets 🏖️ Enhance your comfort by choosing quick-drying towels and blankets. Consider the convenience of microfiber towels, which offer a fantastic option. Their thinner composition not only makes them more lightweight than regular towels, but also prevents sand from penetrating the fabric. At the end of the day, simply give them a shake, and the sand effortlessly falls off, ensuring hassle-free clean-up.

Plenty of Water 🥛 Ensure you pack plenty of water to prevent dehydration. It's essential to remind everyone to sip water regularly, especially since time tends to fly when you're having a blast!

Cooler or Insulated Bag 🧊🍉 Keep your drinks and snacks cool and refreshing throughout the day.

Waterproof Phone Case or Dry Bag 📱 Keep your electronics and valuables safe from water and sand. Dry bags are a great option and they come in different sizes to fit your needs. Just remember to keep them in the shade when possible, as they can get pretty warm inside!

Extra Plastic Bags 🛍️ Keep the beach clean and ensure you take any rubbish back with you! You could also use this opportunity to teach your children about the environment and encourage them to join in the effort by picking up any litter from the beach before you settle down for the day.

Car Sun Shade 🚙🔆 Don't forget to use a sun shade for your car windows, as it can heat up super quickly!

Beach Games and Toys 🏐 Keep the little ones entertained with a frisbee or beach balls.

Water Safety Equipment 🚣‍♀️🌊 Ensure your kids' safety with life jackets or floaties. Always remember to watch for any signs of currents or rip tides before you enter the water!

Car Seat Cover 🚗 Keep your car seat fabric in pristine condition by using additional car seat covers to protect it from sand and salty water. By adding these covers, you'll effectively safeguard your car seats, ensuring they stay fresh and new for a longer time - plus, it's a cost-effective alternative to upholstery cleaning after each beach trip!

Beach Shade Tent with UV Protection 🌞⛺️ Beat the heat by creating a shaded area and encourage regular breaks in the shade. You can bring some simple board or card games to help convince your children to stay in the shade every now and again!

Car Boot Cover 🚗 You will thank us for this one! Keep your car boot clean and shield it from pesky sand with this clever solution. Invest in an affordable car boot cover that you can use for those sunny beach trips during summer or muddy forest walks in winter. This simple trick will save you from the hassle of cleaning up and will protect your car all year round!

Baby Powder 🍼💨: Grab a sock, fill it with a sprinkle of baby powder and tie it up securely. Use this sand-removal tool to gently rub away the stubborn grains of sand from your and your child's skin. You'll be amazed at how easily the sand vanishes, leaving you feeling fresh and sand-free in no time!
Now that you have your beach day essentials, get ready for an incredible day of fun by the sea.
Wishing you sunny skies and joyful waves,
~Team JOIZI
CHECK OUT OUR MOST POPULAR CONTENT
Use left/right arrows to navigate the slideshow or swipe left/right if using a mobile device