Did you ever wonder what it's like to have children with a small age gap? Our Brand Ambassador, Grace, documents her family life with two children born within 12 months of each other! Go check them out @twelvemonthsapart  ❤️
We had a chance to ask Grace some questions to get to know her better, here's what she told us: 
What's been your biggest parenting success so far?
Grace: Keeping two toddlers alive and well. They are my pride and joy, I'm so proud of myself for how amazing they are, I did good. 🥰
Do you have a go-to parenting book/resource?
Grace: I don't, but knowing what I know now, I would say ALWAYS go with your gut when it comes to your babies. Trust your instinct, it's normally right.
What's your #1 parenting product and why?

Grace: One of the best things I bought was a baby carrier (Connecta). When my son (second child) was born, it was his happy place on me and I could still parent my daughter who was only 1 at the time.

Do you have any toilet training tips?
Grace: Watch and listen to your child, see their ques. The main thing I would say is to accept the accidents. It's their way of learning how to do it right. Also, children develop at different ages. My daughter was toilet trained at 22 months, my son is 29 months and definitely not ready yet, and that's OK.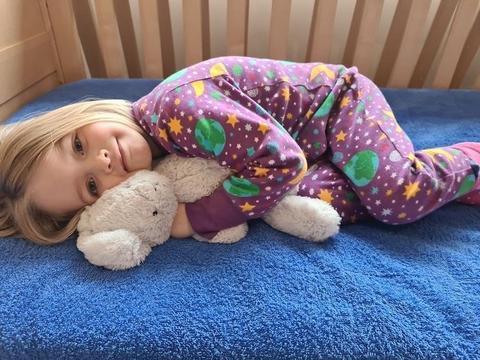 "It's been amazing and made bedtime training so much easier. It's going to come in handy for many different reasons like when the kids get sick or when we cosleep sometimes.

It is completely waterproof but also breathable, washable and you can even tumble dry it. You reuse it over and over again! Forget puppy pads, get PeapodMats instead."
Use left/right arrows to navigate the slideshow or swipe left/right if using a mobile device