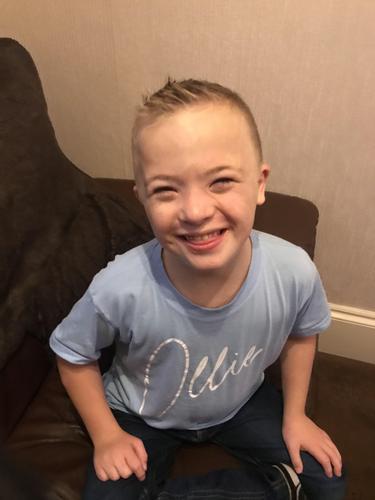 We're delighted to have Carly as our Brand Ambassador ❤️ Her adorable son Ollie has been testing PeapodMats since October 2020! Carlie has a lovely Instagram profile The Up Side of Downs, featuring her superstar son Ollie. 
We had a chance to interview Carly about her parenting experience and here's what she's told us: 
What's been your biggest parenting challenge & success so far?

Carly: The biggest parenting challenge so far has been not knowing what the future holds. Before I had Ollie, I was never around children with special needs. I wasn't sure if I could cope with not knowing what to do.
My biggest parenting success has to be that no matter what, you can only do your best. I always believe that slow and steady wins the race. When Ollie started walking, unaided at the age of 5, I knew that our persistence paid off.
I was always told by professionals that Ollie would never lead a normal life, and he wouldn't meet his milestones. This is a lie. Ollie leads a life and is treated no different, like anyone else. It may take him a little longer but he has reached milestones that any other child has reached.
What's your #1 parenting product?

Carly: PeapodMats are definitely our go-to parenting product. This mat has changed our lives and I only wish I knew about it sooner as I could have used it so much more in various situations. This mat is a complete game-changer. Ollie suffered so much with acid reflux when he was younger and would be sick all the time, this mat would have saved my furniture and carpets.
Do you have any toilet training tips?

Carly: Our toilet training journey has been long and hard, but we can finally see the light at the end of the tunnel. I started toilet training Ollie when I believed he was ready, and for Ollie, that was at the age of 6. My parenting tip is that for us we started it in the 6 weeks summer holidays so my attention was on him and we could really crack this out. Schools are busy enough as it is, so I didn't want them to take most of the responsibility. Don't force it on your child and never tell them off for an accident. I always made a huge fuss of Ollie when he used the potty to encourage him more. 
Carly's review of PeapodMats
"Excellent product and customer service. This 100% works and has been a complete game-changer in our household. Waterproof, soft, and breathable. I recommend this to anyone whose child struggles with bedwetting, just like my child. You will not find anything better than this, I have tried."
Use left/right arrows to navigate the slideshow or swipe left/right if using a mobile device